"I do want to say that there is one thing I've learned about people: they don't get that mean and nasty overnight. It's not human nature. But if you give people enough time, eventually they'll do the most heartbreaking stuff in the world."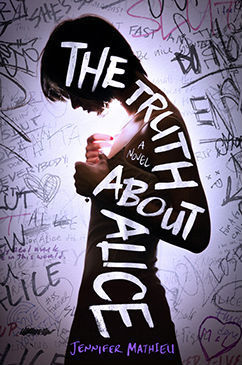 Everyone knows Alice slept with two guys at one party.
But did you know Alice was sexting Brandon when he crashed his car?
It's true. Ask ANYBODY.
Rumor has it that Alice Franklin is a slut. It's written all over the bathroom stall at Healy High for everyone to see. And after star quarterback Brandon Fitzsimmons dies in a car accident, the rumors start to spiral out of control.
In this remarkable debut novel, four Healy High students—the girl who has the infamous party, the car accident survivor, the former best friend, and the boy next door—tell all they know.
But exactly what is the truth about Alice? In the end there's only one person to ask: Alice herself.
I have to admit I was afraid I might not like The Truth About Alice. I'm sure most of us have encountered a book that had way too many POVs and after a time it became tiring to keep up with all of them. However I needn't had to worry. Jennifer Mathieu was able to create unique voices in an only 210 pages long novel, if I didn't know better I'd never guess this is her debut novel.
Alice's story is mostly told based on rumours and gossip by four not-so-trustworthy teenagers. We can find every high school stereotype here and we don't even have to search hard because they are the ones who tell us Alice's story as they see it. They are: Elaine, the most popular girl who thinks she's everyones fantasy, Kelsey, who thinks popularity is more important than loyalty, Josh, the most popular jock and lastly Kurt, the nerdy guy who's had a huge crush on Alice for years.
I think the hardest thing an author has to overcome when writing about unlikable characters is to make us still accept them, or at least find their reasoning for why they are this way believable. While three of our main characters were terrible people I can still see where they came from and why they acted this way, or at least mostly. Jennifer Mathieu showed us all that nothing is what it seems like, under every stereotype there lies a unique personality and all of us have our reasons for acting the way we do.
We hear many things about Alice, and while we all have a very good idea about her by the end I was glad she got her own chapter and was able to tell us how she feels and what really happened to her. You could particularly see Alice as she walked down the street and feel how what happened affected her in a way that can't be undone. The ending might not have been as neat as some would desire but I personally think it was a perfect closure to this story.
Kurt was an adorable character who most of the time had no idea what to do to make things better for Alice but he did try, hard too. I loved his kind-hearted nature but I wouldn't say he became a new favorite character or anything like that.
"I've missed you, too," I say. "And I've missed your vocabulary." (Alice)
"Tremendously?" he says, smiling." (Kurt)
Elaine was a mean character but she wasn't the worst by far. As the story developed it became obvious that she didn't believe the rumours because she was sure they were true but because she wanted to believe them. To say the least Elaine's biggest problem was herself and I really hope she'll be able to work her issues out one day.
Finally a book where the most popular jock isn't idealized a least bit. Brandon wasn't only an ass but a selfish bastard too, and then we have Josh. I had huge hopes for him. He did some pretty nasty stuff and I hoped he'll tell the truth in the end and just simply be a good guy (Disney fan much? Nah.).
Kelsey was my most hated character by far, after all she'd been best friends with Alice. After a while I started to feel sorry for her, she chose popularity over her best friend and didn't even feel bad about it. She has no idea what she loses while her only care in the world is not to look bad in the popular clique's eyes. Positive thing about her is that she's fully aware of being a coward.
"It's like when we read The Diary of Anne Frank in seventh grade, and I had the sneaking suspicion that I would have been a Nazi back then because I wouldn't have had the guts to be anything else. Because I would have been too scared to not go along with the majority. Like, I would have been a passive sort of Nazi, but I still would have been a Nazi."
I really liked Alice's character even though we had very little time to actually read from her POV. I can't recall an as strong characters as she was from all the books I've read. It's one thing to go against your enemy with your friends supporting you but it's completely another to thing to survive being an outcast in not just your high school but your whole town.
"How much did it hurt? It was like a million paper cuts on my heart."
The realization of the story: 5/5
What is your favorite realistic fiction novel?
Have you read The Truth About Alice? Share your thoughts upon the characters with me!