"Because Liz Emerson held so much darkness within her that closing her eyes didn't make much of a difference at all."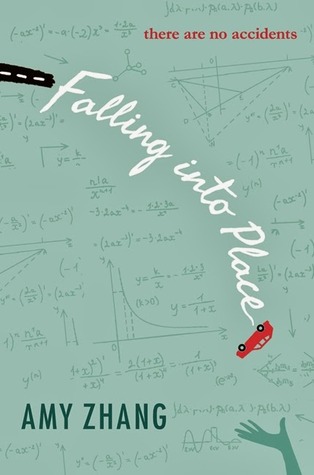 On the day Liz Emerson tries to die, they had reviewed Newton's laws of motion in physics class. Then, after school, she put them into practice by running her Mercedes off the road.
Why? Why did Liz Emerson decide that the world would be better off without her? Why did she give up? Vividly told by an unexpected and surprising narrator, this heartbreaking and nonlinear novel pieces together the short and devastating life of Meridian High's most popular junior girl. Mass, acceleration, momentum, force—Liz didn't understand it in physics, and even as her Mercedes hurtles toward the tree, she doesn't understand it now. How do we impact one another? How do our actions reverberate? What does it mean to be a friend? To love someone? To be a daughter? Or a mother? Is life truly more than cause and effect?
Amy Zhang's haunting and universal story will appeal to fans of Lauren Oliver, Gayle Forman, and Jay Asher.
Throughout Falling into Place we have absolutely no idea who the narrator can be, at least that's what I think. Some people might have guessed it right but I honestly don't think most of us did. I liked the writing style in general but sometimes it felt forced to me and not as genuine as it was at most places. These weren't big issues, though, and I'm sure Zhang's next novel will be even more perfect than Falling into Place was.
"I wish second chances were real."
In Falling Into Place no one is what they seem like. We have Liz Emerson who has every single thing a girl could desire for: popularity, the perfect boyfriend, money and last but not least beauty. However nothing and no one is what they seem like. Liz hates herself. She hurt loads people in her life and she feels like there's no possible way to
right all the wrong she's caused. She feels sorry but has no idea how to make others know this, neither does she know a way out, besides suicide.
Liz's one of those characters who makes it really hard to like her. She feels sorry for herself instead of trying to correct her mistakes. She doesn't even believe that all the wrong she's done can ever be righted, which made me so very sad.
"And suddenly, it's very clear to her that every action is an interaction, and everything she has ever done has led to something else, and to another something else…"
Liz's friends seemed like the total 'mean girl' stereotypes, mainly Kennie, but they were surprisingly fine. They had flaws, many to be exact but they were still very likable. The only bad thing I can say is that I felt like every main character had a huge issue in his or her life which is really not like that in real life.
At first I was sure that the relationships were fake as hell. As a start we could see Liz's mother who felt the need to keep her act together even when her daughter was possibly dying. I was sure I'll hate her, but I was totally wrong! Then there were the friends who I've mentioned before. I doubted their friendship, I thought it's the typical cliché that authors love so much, you know when the popular kids hang out just because they are from the same clique. Again I was wrong. There was so much more meaning and deepness behind all the relationship in Falling Into Place.
Now I may be the only one feeling this way but Liam's affection or call it whatever was a bit creepy to me. At first I simply thought he knew Liz, like really knew her but when shit got out I was mortified. I won't spoil anything but honestly, if you read this book do tell what you thought about what Liz did in the past.
While this book is not for everyone, I believe many people should read it and give this exceptional debut author a real chance.
The story idea: 4/5
The realization of the story: 4/5
The characters: 4/5
The cover: 3/5
Enjoy factor: 4/5