"Thank you for showing me that when we want something badly enough, it's worth taking all the risks and chances to even get a taste."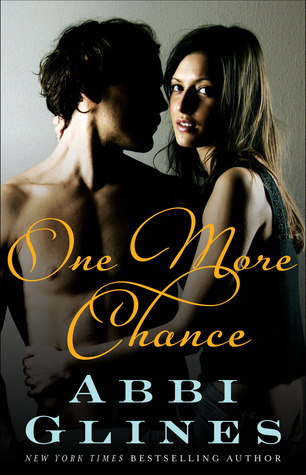 Grant Carter did everything in his power to convince Harlow Manning that he was a good guy. More than a smooth-talker and someone she could trust. He had to overcome his reputation as a playboy, and his history with Harlow's half-sister, Nan, a woman with a reputation of her own.
Harlow had taken the chance, falling hard and fast for the guy who thrilled her with his all-consuming desire. After a lifetime of avoiding bad boys like Grant, she had opened herself to the possibilities of love...
But a life-changing secret has torn them apart, and now Grant and Harlow must decide if they have enough fight to make it work - or if the pain of betrayal has permanently destroyed their future.
Were Abbi's books always this cheesy? I don't remember at them like that, sure they were sweet and all but somehow they weren't too cheesy... or maybe I'm the one who changed? I have to assume the second because no one seems to complain about these books feel like cotton candy stuck in your mouth. I think
I'm going to give a break to Abbi's novels because it's such a horrible feeling writing bad things about any of her works.
I didn't enjoy Take a Chance at all, throughout the book I felt cheated and let down because this Grant wasn't the one who we got to know in Fallen Too Far. This Grant was selfish and childish and the biggest coward ever. Such a disappointment. The thing is that unlike many others I don't think he changed all that much. He acted more mature that's for sure but I didn't see his character outstandingly develop.
What I started to see in Abbi's books was how she likes to reuse the same characters again and again. Rush, Grant and Woods all seemed totally different from each other, so of course I was glad when they got their own books but come on, their voices were oh-so-similar and let's just not talk about the girls.
When I say that One More Chance is cheesy, I'm not overexagerrating things. I wasn't able to read the voicemails Grant's sent to Harlow and some other things, namely letters but I can't say more without spoilers.
I adore happily ever afters but I think Abbi Glines goes too far sometimes. There's the thing that one by one, every character seems to find the One but of course they are all great friends and their girlfriends become great friends too. I'm sure their children will get married to each other because that's the type of story Rosemary Beach Series are. I know, I always do this, ask for something then hate it when I got it but you know what?
I could look this over but here is the thing: not everyone's a good person, there are some who just stay mean for eternity and Nan is one of them. I was so mad when the author tried to press down my throat this bullshit that she's actually not mean, she just chose to live her life under layers of bitchiness. Yeah, my ass. Rush always took care of Nan, loved Nan even when she was the most horrible person ever but she was a bitch to him too. If Nan'd had only been nice to Rush, not Blaire but Rush then I could believe she still has a soul. But how she treated her brother was horrific and I won't buy the crap that she's nice inside.
Something happened to the characters again, what I think was unnecessary. Harlow and Grant's story could have easily been wrote in one book only, not two because nothing happened.
I hate Harlow's father. He acts all protective of her now but where was he when Harlow needed him as a father? He's such a dick, yeah maybe he can love but please don't make a pedestal for him because he has a heart. BTW, am I the only one who thought that he didn't love Harlow for who she is but for who her mother was?
Favorite character: Rush, Blaire, Nate
Least favorite: Grant, Kiro, Nan
The story idea: 2/5
The realization of the story: 2/5
The characters: 2/5
The cover: 1/5
Enjoy factor: 2/5