Hello darlings. Today I'm here with a new Top Ten Tuesday post. TTT is a weekly meme hosted by The Broke and the Bookish, today's topic is the top ten characters I would totally want to be for Halloween. I had a lot of fun while writing this list, and imagining myself in any of these costumes so I hope you'll like my list.
I chose this topic because I've already done the other two that was given:
Spookiest
Reads for
Halloween
Spookiest Movies for Halloween
I tried to choose characters who have something recognizable so it would be obvious who I dressed up as. If you're in the mood for a little guessing then read the next ten clues I left about all of my choices, a little help: they are all girls.
Alright so here are your ten clues:
10. Everyone's favorite goth girl.
9. Proud owner of a Yankee's Cap that makes it's wearer invisible.
8. Sentinel of a vampire house who just loves Bears and Cubs
7. Can win anything with a bow and arrow.
6. A badass vampire hunter who earned the nickname "Red Reaper".
5. Learnt in the coolest school ever, is the cleverest of the class or possibly school.
4. Has the longest hair in the whole universe.
3. Has a flower themes tattoo on her face because of her job.
2. Has killer dresses and red her, she's just such a queen.
1. A blue haired girl who wished to fly.
Eve
from Morganville Vampires series
I love people with different style so of course I adore Eve, everyone's favorite goth girl. It would be wonderful to dress up as her, more so if I have friends who'd dress up as the other characters.
Annabeth
from Percy Jackson and the Olympians series
I love
A
nnabeth, I'd go around wearing a Yankee's cap and just the chosen ones would understand what does that mean.
Merit
from Chicagoland Vampires series
Merit is such a kickass character. I'd dress up in leather and would bring that sword or whatever it is called she carries around and go on a quest to find my Ethan.
Katniss
from The Hunger Games trilogy
I think most people would realize that I'm being Katniss, there are just so many things dedicated to her. Her braided hair, the bow and arrow and I'd find some kickass clothes.
Cat
from the Night Huntress series
So badass. I don't think she has any special thing that makes her recognizable so she isn't the best choice but whatever I love her character.
Hermione
from Harry Potter
I'm sure Hermione is a popular choice today. Her character is just so likeable and who doesn't want to dress up as a Harry Potter character?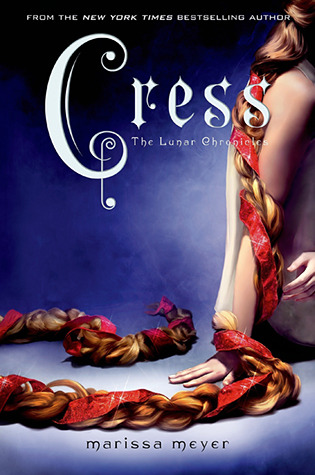 She is my favorite character from the Lunar Chronicles, hand in hand with Thorne and I think it would be amazing to dress up as an iconic book character.
Sydney
from the Bloodlines series
I love love love Sydney and I think her tattoo makes her damn recognizable. This whole magic thing she pulls of is a bit Halloween-ish too and that's why she's in the top three.
America
from The Selection series
Those dresses guys, and I haven't even talked about the one on the cover of The Heir. If I were rich as hell I'd totally dress up as America, even renting a dress like hers would cost a fortune.
Karou
from The Daughter of Smoke and Bone trilogy
I always wanted colorful hair so trying out Karou's blue hair would be wonderful. Plus her tattoos make her even more recognizable. The reason why this is my favorite is because you can wear particularly anything, you just have to recreate the tattoos and dye your hair. Dressing up as Liraz would be cool as well.
This was all for today, I hope you enjoyed. Share with me how many could you guess and of course your TTT. If you chose another topic for today don't forget to share with me in the comments who would you dress up as. I'm sooo curious.
Thanks for stopping by. :)