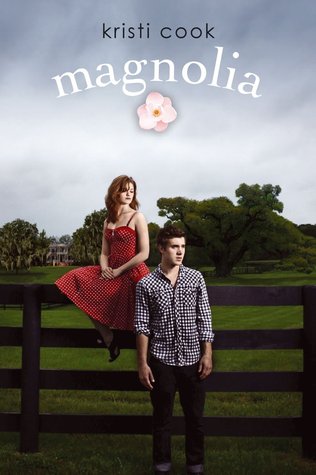 In Magnolia Branch, Mississippi, the Cafferty and Marsden families are southern royalty. Neighbors since the Civil War, the families have shared vacations, holidays, backyard barbecues, and the overwhelming desire to unite their two clans by marriage. So when a baby boy and girl were born to the families at the same time, the perfect opportunity seemed to have finally arrived.
Jemma Cafferty and Ryder Marsden have no intention of giving in to their parents' wishes. They're only seventeen, for goodness' sake, not to mention that one little problem: They hate each other! Jemma can't stand Ryder's nauseating golden-boy persona, and Ryder would like nothing better than to pretend stubborn Jemma doesn't exist.
But when a violent storm ravages Magnolia Branch, it unearths Jemma's and Ryder's true feelings for each other as the two discover that the line between love and hate may be thin enough to risk crossing over.
I was so excited for Magnolia! Seriously, guys since I heard about this book I WANTED it.
I was a bit afraid because it doesn't actually have the best rating on Goodreads and I heard some mixed things about it. However I didn't lower my expectations and thank God for that.
Magnolia was a quick and adorable read about being yourself and choosing what's good for you and not what others want.
Two rich families want their kids to get married. Cliché much? I thought so but in reality it isn't. The story has a lot of parts that make it stand out from all the other YA romance books. I loved the idea of the storm and how Ryder and Jemma had to spend more than one day together. This was an original and realistic setting for a heart to heart conversation.
Jemma as a narrator was hilarious. I loved her witty voice and how she saw the world. While I'm nothing like her she was so well made that I could still connect to her character. At first I had a hard time understanding why she acted like a bitch but fortunately she had an actual reason for hating Ryder and not some made up one.
The romance was so damn sweet, I loved reading about how they admitted their problems and wishes to each other. I particularly enjoyed when they talked about where do they want to go after high school, it was like they give each other strength to do the right thing.
There was a conflict as well which was a little bit strange to me, I think the book would have worked without Patrik just fine.
I won't say that Magnolia had a complex plotline or that so many things had happened because that wouldn't be true. That wasn't the main point of this book, I wouldn't say that the hurricane was either. I think in the central of the novel were the characters and how the things that happened changed them.
Jemma: After I understood why she tried to hate Ryder so hard I started to adore her. She had her flaws but all considered she was a great person. I liked how she handled her relationship with Patrik, it was clear that she didn't love him and had more than one problem with him but she did give him a chance. My only problem with her was how she always wanted to satisfy her parents but considering her life I can't blame her.
Ryder: I loved him so much. He was so much different from the usual bad boy character and I loved how he didn't take orders from Jemma.
Check out my tumblr for more book quotes and tv show scenes:
http://veronique96.tumblr.com/
I had a hard time liking or accepting
Jemma's parents.
The mother was so damn annoying, she completely planned out for Jemma what, how and with whom to do. She didn't take no for an answer and her desire to get Jemma and Ryder married was ridiculous. At first I liked the father but when he said no to Jemma at the university and made her feel guilty for asking when they had other problems I wanted to hit him.
"There's only one choice for the both of them, as far as I'm concerned," my mom says. "It's about time the Rebels get their football program back on track, and Ryder's just the boy to do it—with Jemma cheering him on."
I can't help but cringe, staring down at my plate. I mean, is this really what my mom dreams about? Is this the best she can imagine for me?
I didn't really like Jemma's friends. I felt like they weren't real friends. Jemma's sister was really amazing, though.
Favorite characters: Jemma, Ryder
Least favorite: all the parents.
The story idea: 4/5
The realization of the story: 5*/5
The characters: 5/5
The cover: 5*/5
Enjoy factor: 5/5