"Having something taken away before you're ready to let go always hurts."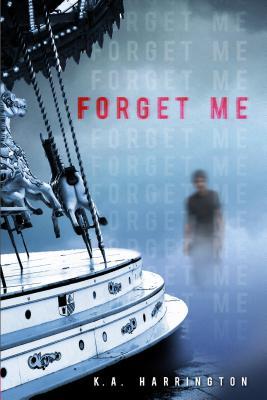 An edge-of-your seat psychological thriller with a romantic twist.
On the three-month anniversary of her boyfriend Flynn's death, Morgan uploads her only photo of him to FriendShare to get some closure—but she's shocked when the facial recognition software suggests she tag him as "Evan Murphy." She's never heard of Evan, but a quick search tells her that he lives in a nearby town and looks exactly like Flynn. Only this boy is very much alive.
Digging through layers of secrets and lies, Morgan is left questioning everything she thought she knew about her boyfriend, her town, and even her parents' involvement in this massive web of lies.
Lately I really got into the mystery genre so I was pretty excited when I first read the synopsis of Forget Me. It sounded different from all the mysteries I've read but unfortunately, despite it's huge potential it failed to impress me.
Morgan's boyfriend died three months ago and based on the suggestion of her best friend, Tone she uploads a picture of Flynn to Friendshare. To their utter surprise the network recognizes the photo as Evan Murphy. Of course Morgan has to know if this unknown guy is her supposedly dead boyfriend or not. She starts digging but there are things out there that better not be found.
What I really loved in Forget Me was the setting. I always had a thing for abandoned places and Harrington described them amazingly, I felt like I was visiting all those places, like the fair park hand in hand with the characters.
When I started the novel I didn't know anything about anything. I enjoyed being clueless and that is something that not every author can pull off. Unfortunately, as the story went on I lost my enthusiasm, I wasn't invested in the mystery anymore. It didn't feel real, while huge things happened I still wasn't impressed because for some reason I couldn't see them as huge things.
Another thing I really didn't like was how I felt like this book was almost good, almost exciting, almost almost almost. T
hroughout the novel I felt like something huge was going to happen, just a few pages and something shocking
must
happen. But it never did.
It could have been amazing, it had everything to be a great read but it wasn't and this was the most disappointing thing ever.
The side characters, such as Reece and Toni were wonderful. You couldn't help rooting for them, they were the cutest. I liked seeing Reece change, or rather he stopped pretending he was someone he wasn't. Toni was a great best friend, seriously everyone needs a Toni. She was funny, relentless and helpful.
The romance wasn't in the centre of the novel, fortunately because it was weak, even for a mystery. As I said Toni and Reece were cute but Morgan's relationships... I just couldn't put them anywhere. Flynn was a nice enough guy, interesting too but in that relationship there wasn't love. I really liked how Flynn wanted to protect Morgan and Evan too, even if he didn't know anything about him.
There were some pretty dumb things in the novel, some that didn't make sense at all. SPOILER

Toni told Morgan that she was going to a secret meeting when in reality she was breaking into a house. Even if we want to assume that she wanted to be secretive, which is unlike because she invited Morgan to go along with her, this is still a lame excuse. I understand that for the sake of the mystery Morgan had to believe that Toni was meeting up with Reece but couldn't the author find something that made more sense?
END OF SPOILER
All considered Forget Me wasn't good but wasn't that bad either, if I had to choose one word I'd go with neutral. I checked out some other works of the author and realised that while Forget Me is the first novel of K. A. Harrington, technically it isn't because this is only a pen name of Kim Harrington, writer of The Clarity series. While that series doesn't interest me I found another book of her The Dead and Buried which I think sounds pretty great. Let's hope for the best.
Favorite character: -
Least favorite: -
(see? neutral)
The story idea: 4/5
The realization of the story: 3/5
The characters: 3/5
The cover: 4/5
Enjoy factor: 3/5