"I miss the days when I could wake up from a nightmare and call out, and someone would hold me close, make me feel warm and safe."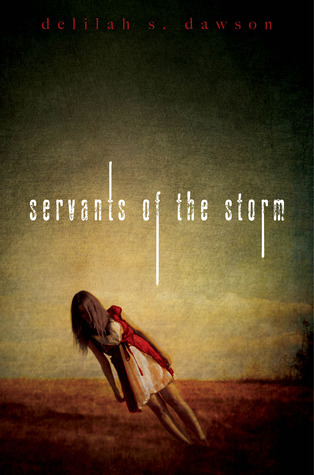 A year ago Hurricane Josephine swept through Savannah, Georgia, leaving behind nothing but death and destruction — and taking the life of Dovey's best friend, Carly. Since that night, Dovey has been in a medicated haze, numb to everything around her.
But recently she's started to believe she's seeing things that can't be real ... including Carly at their favorite cafe. Determined to learn the truth, Dovey stops taking her pills. And the world that opens up to her is unlike anything she could have imagined.
As Dovey slips deeper into the shadowy corners of Savannah — where the dark and horrifying secrets lurk — she learns that the storm that destroyed her city and stole her friend was much more than a force of nature. And now the sinister beings truly responsible are out to finish what they started.
Dovey's running out of time and torn between two paths. Will she trust her childhood friend Baker, who can't see the threatening darkness but promises to never give up on Dovey and Carly? Or will she plot with the sexy stranger, Isaac, who offers all the answers — for a price? Soon Dovey realizes that the danger closing in has little to do with Carly ... and everything to do with Dovey herself.
Servants of the Storm failed all my expectations, and believe me when I say, I lowered them quite a bit after many people wrote that they didn't like this book. Anyways, I usually steer clear of books that made reviewers regret they ever accepted the review request but not this time. I'd been waiting for Servants of the Storm for such a long time and I couldn't just let it go without at least giving it a chance. So I did. And God, how I regret it.
My biggest problem is that nothing was good enough. There were some parts that were alright, some that I really enjoyed but after all I still felt like the story didn't make sense. When I pick up a fantasy novel I want it to make me believe in the paranormal beings it has in it and not make me question everything it says. I want it to show me a world I can't question, to introduce me to characters who I can look up to, swoon over or simply adore. Unfortunately, neither one of these things happened.
Okay, the world building wasn't that bad. The author was actually able to make me imagine every place. My only problem is that I didn't find any logic in some cases, like the fair park, it was so stupid and well something that I just couldn't imagine. If things are in such a bad condition than how the hell is that no one died that night?
I've always loved that part of a fantasy or paranormal novel when someone tells our hero/heroine what's up with everything. This is the part of the book, when you have the chance to really see the main character, to really connect with her/him. Unfortunately, this wasn't the case with Servants of the Storm. Up until 40% of the book, we had no idea what we are facing, I'm sure the author wrote like this to make the story mysterious but all it did was made me want to put it down. Then suddenly things got heated and I thought: that's what I was waiting for! Something shocking happened which I really loved but then... the part that's usually my favorite ruined everything. Imagine that something really big, at least considered to other parts of the book, happens and then boom... nothing. Only boring and totally unbelievable facts about the paranormal beings of the book. Such a disappointment.
As I said, I want to look up at the characters, most of I want the heroine to be brave and badass. I don't think Dovey was any of these things. She was selfish, she brought her friend, Baker who she allegedly liked into this mess because she just couldn't do it alone. Who does something like that? She was so goddamns stupid too. Never thought before she made a decision and risked her life again and again, most of the time for dumbass reasons. I have to give her credit for not giving up on her best friend, Carly because this was a great thing.
The romance... let's just say that the love triangle was as forced as it can be. Usually there's a reason for putting a freaking love triangle into a book, not this time though. It was horribly made, I never for once felt like Baker really stood a chance even if he was the guy who we first met with. He was such a cheesy and meaningless character... I never felt like the things he said were sweet or even bearable.
"I want to be what you need, see what you see. You just have to show me. You have to let me."
Isaac was another story, I really liked his character. While he wasn't perfect he was at least someone who was able to think which was apparently a rare characteristic in Servants of the Storm.
Anyways, I pretty much liked the ending. I was stunned speechless after finishing SotS. I think people who are interested in a (kinda) unique story and an ending when you just ask yourself whaat over and over again, will like Servants of the Storm. Good luck with it guys.
The story idea: 4/5
The realization of the story: 3/5
The characters: 2/5
The cover: 5/5
Enjoy factor: 2.5/4