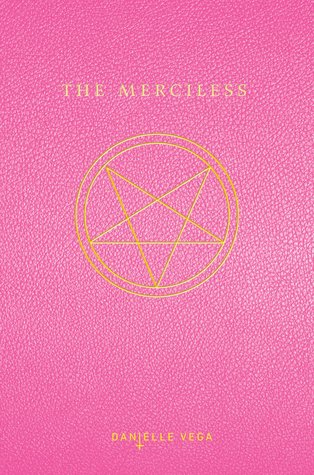 Forgive us, Father, for we have sinned
Brooklyn Stevens sits in a pool of her own blood, tied up and gagged. No one outside of these dank basement walls knows she's here. No one can hear her scream.
Sofia Flores knows she shouldn't have gotten involved. When she befriended Riley, Grace, and Alexis on her first day at school, she admired them, with their perfect hair and their good-girl ways. They said they wanted to save Brooklyn. They wanted to help her. Sofia didn't realize they believed Brooklyn was possessed.
Now, Riley and the girls are performing an exorcism on Brooklyn—but their idea of an exorcism is closer to torture than salvation. All Sofia wants is to get out of this house. But there is no way out. Sofia can't go against the other girls . . . unless she wants to be next. . . .
After all the mixed reviews I've read about The Merciless I had my doubts. I shouldn't have been worried because Danielle Vega made an amazing job here, more so if we consider the fact that The Merciless is her debut novel. Perfect read for those who'd like to read a crazily bloody book, it's not frightening but it creates a deliciously creepy atmosphere.
Especially
recommended for Halloween.
I needed a little push from my friend to start reading The Merciless because seriously how bloody a YA novel can be? Very, I have to say. I wouldn't recommend this book for those who hate disgusting scenes because most likely they will be mortified.
Care to see more book quotes and tv show scenes?
http://veronique96.tumblr.com/
The Merciless was able to make me really wonder about what is true and what is false and who should I believe and root for. This book was able to surprise me quite a few times and while I was able to figure out the ending I still thoroughly enjoyed reading it.
When reading it I always had the feeling that something shocking is about to happen and how true that was!
The characters were wonderfully portrayed. The three supposedly perfect girls, Riley, Alexis and Grace hid some pretty messed up stuff under their facades and it was amazing to slowly see who they really were.
The relationships weren't that important, I couldn't find any strong ones. The friendship between the three mean girls looked great from the outside but after getting to know the girls better I realised how false it was. There was a very little touch of romance in the book and I have to admit that I longed for more because I found Charlie super cute.
When Sophia joined to the girls I thought she was completely stupid, she had to know that giving cute nicknames to each other doesn't mean that you'll be friends forever. After all she had been to countless school and had all kinds of friends. I'd say that if you travel that much you'd know people better.
It drove
me nuts when she compared crazy Riley to the Riley she's known. They met like two days ago so she can't possibly know her that well. You never know someone completely, they say, but after two days of meeting with them you don't know them at all.
The thing is that I'm not sure if I was supposed to love or loathe these characters. When I thought I hated someone they redeemed themselves and vice versa. I read somewhere that it will be a series and I really really hope that's the truth because that sounds like one crazy journey.
Favorite character: Sophia, Brooklyn
Least favorite: -
The story idea: 4/5
The realization of the story: 4/5
The characters: 3,5/5
The cover: 4/5
Enjoy factor: 4/5