I promised in my

100th post that I'm going to make posts about cover changes. The hard things wasn't the idea, it was thinking of a title for this new feature. Finally I decided next to (Don't) Judge A Book By It's Cover. Every month I'm going to post one, I'll feature 5 to 10 books and at least 4 cover changes to each. Every post will be about a different genre, today I'm comparing different editions of 6 books from the New Adult genre.
I'm going to rate the original covers from 0 to 3. It will get a point if my answer is yes to any of these three questions:
Does it fit the story or has any connection to it?
Does it look good?
Is it original?
My first pick is *surprise, surprise*
Wait for You by J.Lynn
.
The Original Cover:
I'm not a fan of close up faces and I always thought that kissing couples make an extremely cheesy cover but somehow the cover of Wait for You just works for me. Maybe because besides the red font it's black and white? I really don't know but I still like this cover.
I'm going to give it 2 points. As I said, it does look good and it fits the story but it's not original by far.
There are two editions, the Uk and the French that I can connect to the story (astronomy class and Avery's bracelet). Besides that they have to do something with the novel I hate both of these. Seriously the UK looks like a Middle Grade book by most while the French reminds me of some BDSM cover ugh.
The
German
is horrible again. From that cover I'd think that the guy is the one with problems because he seems to just stand while the girl leans in towards his
neck
.
Unlike the original cover this does not look innocent at all.
The Dutch edition caught me off guard, I mean On Dublin Street by Samantha Young has exactly the same cover. And while it fits On Dublin Street that being more of an Adult book, it doesn't fit the relationship of Avery and Cam.
The Italian looks like a cute contemporary romance, I'd never ever pick that book up at the store.
Finally the Bulgarian edition is the one I like the most from these six but in my opinion even that is worse than the original cover. From that I'd think the story is happier than it is.



My second pick is Beautiful Disaster by Jamie McGuire
The Original Cover:
I really-really love this cover, it's simply beautiful (1 point) but unfortunately I don't think it's that original (0.5 point). I don't think it really fits the story either, I couldn't tell that this is a contemporary romance if I didn't read this book.
1.5/3
These are horrible. Honestly I'd never ever pick any of these up if I saw them at the bookstore. I don't even know where should I start.
Maybe the Slovenian is my "favorite". It even used a butterfly item, like on the original cover. Plus the guy at least looks though unlike on the Italian cover. I don't even know what to say about that one, neither one of the cover models look anything like how I would imagine the characters. The guy who was supposed to illustrate Travis looks like an art student not a fighter.
The Indonesian is waay too colorful, plus those tattoos look horrible. The one on his biceps looks like it was photoshopped on the picture which probably was. But please can you make it less obvious?
The Swedish cover is just plainly terrible. It doesn't have anything to do with the story plus it looks like a horribly photoshopped picture.
My third pick is On Dublin Street by Samantha Young.
The Original Cover:
As I mentioned before, I don't usually like kissing or 'the moment before they kiss' covers but this worked for me because it fits the story. Joss holds back for a long time and then they have this strictly just sex relationship so of course the cover can't be innocent looking.
I do love this cover, it looks good with the dark shades (1 point), it isn't original at all but as I said it fits the story perfectly (1 point)
2/3
I think the UK edition looks pretty good but a bit too innocent for the story. If I saw that at the bookstore I'd think that it's the usual NA cliché: virgin girl and a cocky guy who seduces her. That girl is just so not Jocelyn, it's more Ellie than anyone else.
I think the Bulgarian looks good and it even reminds me of one of the best scenes from the book but honestly I first thought it's blood and not a towel.
The other four are all horrible. Okay, the Italian isn't that bad but it has absolutely nothing to do with the book neither the French or the Bulgarian.
I can't recall Joss ever getting a necklace from Braden, if anything it reminds me of how Braden bought a lot of things to his "girlfriends".
Why is there a lipstick on the Bulgarian, it looks tacky and makes the book seem like some cheap erotic romance.
The worst is by no mistake the Portuguese... seriously what is that supposed to resemble from the book? Ugh worst cover change ever.
My fourth pick is Fallen Too Far by Abbi Glines.
The Original Cover:
I hate this cover. Actually I hate the covers of the whole trilogy. The girl who is supposed to be Blaire doesn't look a least bit innocent and while Blaire is supposed to have natural blonde hair I'm sure the cover model's hair is anything but natural. That's no problem, I'm dying my hair myself but would it have been really that hard to find a girl with natural blonde hair or yet easier, dye this girl's to a better shade?
Obviously
I don't think it's beautiful, neither original but I'll give a half point to it because it fits the story. The reason why I won't give 1 point to it is because I don't think the cover models fit the protagonists at all.
It's easier to say which one I like because that's one in total, the UK edition. I don't think it completely fits the story but it's alright and it's minimalist but beautiful.
The Greek cover is such a cliché but still the second best. Boy and girl hugging each other like crazy, terrible.
I don't get the Polish cover because it looks like a light YA contemporary and how they cut down the guy's face is so unnatural, just meh.
Hmm, the fourth 'best' is the Italian cover on which the girl has brown hair for crying out loud and is in bath tub with the guy. Again no connection to the story.
The Portugueses looks like a book about a spoiled brat (what is all that pink?) and believe me when I say that Blaire is far from that.
The Dutch cover looks like an Adult book. From that cover I would never guess the story of Fallen Too Far.




My fifth pick is The Secret of Ella and Micha by Jessica Sorensen
The Original Cover:
Again a kissing cover that I actually like. I love how there's only the red in it and besides that shades of black and white.
It gets one point for being beautiful and one for being cut out to the story but I can only give a half to it's originality.
2.5/3


I think the worst is the Italian. I don't like the cover model at all and the design looks horrible.
The French looks bad too. Unlike the original cover black and white with the red doesn't look good on this one at all.
How the guy kisses the girl's forehead on the Czech cover is one of the most clichéd positions one can come up with. Seriously even I'm more creative than that.
The German looks pretty cute but nothing special. It would not make me pick up the book at first glance.
The two Portuguese covers are really beautiful so they are my favorites. My only problem with the purple one is how innocent the girl looks, beside that it kind of fits the book. The girl looks like she's running away from something like Ella did run away from Micha.
The other looks good too but it's a bit too dramatic. I think it rather looks like a fantasy or mystery than a NA romance.
My sixth and last pick is The Vincent Boys.
The Original Cover: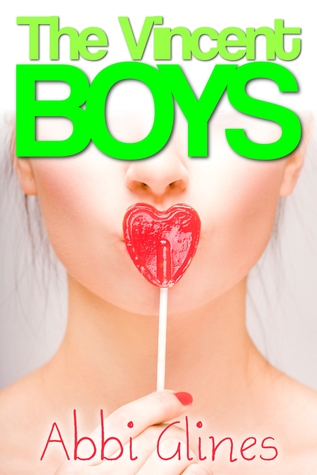 I hate this cover, it looks so forced and I can't decide if it meant to be innocent-ish or vulgar. Either way it's one of the worst covers I've ever seen.
0/3
Finally I can feature a Hungarian version which is my favorite. Many publishers chose the same cover, for example the Spanish edition (El Chico Malo) looks exactly the same. I like this cover because it has all three main characters on it and I think it just simply fits the story.
The UK edition isn't that bad either but I wouldn't pick it up at the store. It looks kinda boring.
The German edition is just so cheesy, the only thing I like in it is that I saw they published other books of Abbi in the same style.
Finally the worst. I don't know if the Dutch was supposed to be sexy or what but for me it's simply disgusting. There's a mouth in the gray nothing. I checked what the title means and I was surprised to find out it means Perfect Summer. I don't think that has anything to do with the book because really Ashton's grandmother died, and the two boys' friendship got ruined. Not that perfect now, is it?
Thank you so much for stopping by and taking time to read through the first post of my new feature: (Don't) Judge A Book By It's Cover. Hope you enjoyed it.
Tell me your opinion. Pick your favorite edition of either of these books, or if you like all six of the books and tell me in the comments.