Waiting on Wednesday is weekly meme hosted by Breaking the Spine and it spotlights upcoming releases that we're eagerly waiting for. Today I'm going to write about Stay with Me by J. Lynn.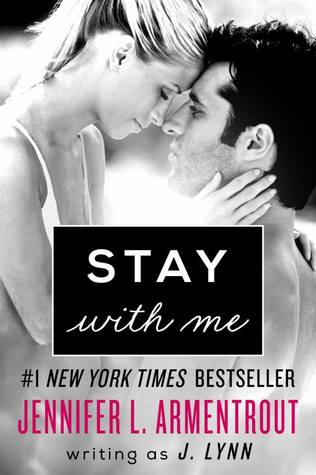 At 21, Calla hasn't done a lot of things. She's never been kissed, never seen the ocean, never gone to an amusement park. But growing up, she witnessed some things no child ever should. She still carries the physical and emotional scars of living with a strung-out mother, Mona—secrets she keeps from everyone, including her close circle of college friends.
But the safe cocoon Calla has carefully built is shattered when she discovers her mom has stolen her college money and run up a huge credit card debt in her name. Now, Calla has to go back to the small town she thought she'd left behind and clean up her mom's mess again. Of course, when she arrives at her mother's bar, Mona is nowhere to be found. Instead, six feet of hotness named Jackson James is pouring drinks and keeping the place humming.
Sexy and intense, Jax is in Calla's business from the moment they meet, giving her a job and helping her search for Mona. And the way he looks at her makes it clear he wants to get horizontal . . . and maybe something more. Before Calla can let him get close, though, she's got to deal with the pain of the past—and some very bad guys out to mess her up if she doesn't give them her mom.
Wait for You is one of my favorite books of all time, I've probably reread it at least five times and I'm still as much in love with those characters as I was before. The second book, Be with Me wasn't as amazing as the first novel but I still loved it.
Now about Stay with Me. I really liked Calla and ever since being introduced to her I wanted her to have her own book. She seems like such a wonderful character and I can't wait to meet with Jax.
Don't forget to tell me in the comments what are you "waiting on" this week. Leave a comment to your post and I'll sure as hell check it out.