Waiting on Wednesday is a weekly meme hosted by Breaking the Spine, every week we share our most anticipated books. Today I chose They All Fall Down by Roxanne St. Claire.
I hope you'll enjoy my post! :)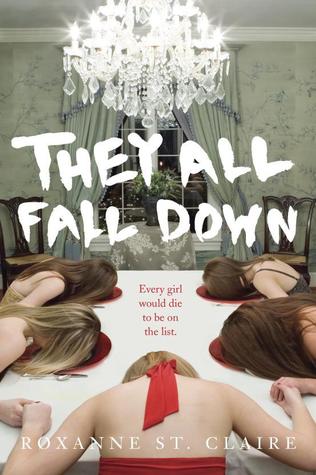 Pretty Little Liars meets Final Destination in this YA psychological thriller that will have readers' hearts racing right till the very end!
Every year, the lives of ten girls at Vienna High are transformed.
Kenzie Summerall can't imagine how she's been voted onto a list of the hottest girls in school, but when she lands at number five, her average life becomes dazzling. Doors open to the best parties, new friends surround her, the cutest jock in school is after her.
This is the power of the list. If you're on it, your life changes.
If you're on it this year? Your life ends.
Release Date: October 14th
Genre: YA, Mystery Thriller
Just look at that cover. At first I thought that there's blood under their heads but unfortunately, no (boo.) Still what a great idea is this thing with the red plates, and the font style is beautiful. I just need to buy this book, as a physical copy I mean because I need to have this on my shelf.
What freaks me out a little bit is how sucky the Goodreads rating is, whatever, I had loved books with worse rating than They All Fall Down has. The story sounds mysterious I just hope it won't be too sexist with this hot girl list, the mystery must be bigger and better than the list theme.
What is your most anticipated release at the moment? Link in your WoW post or just tell me in the comments. :)
Happy reading.