"What are you working on?" I ask.
"The last page." He gestures towards the table, where a pencilled sketch is being turned into inked brushstrokes. It's a drawing of us, in this café, in this moment.
I smile up at him "It's beautiful. But what comes next?"
"The best part." And he pulls me back into his arms. "The happily ever after."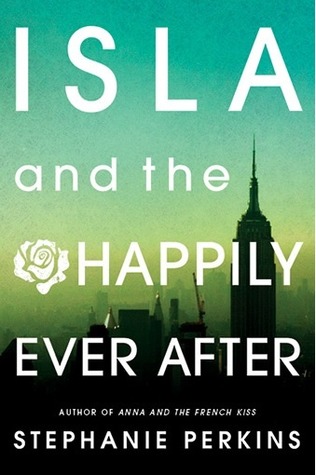 From the glittering streets of Manhattan to the moonlit rooftops of Paris, falling in love is easy for hopeless dreamer Isla and introspective artist Josh. But as they begin their senior year in France, Isla and Josh are quickly forced to confront the heartbreaking reality that happily-ever-afters aren't always forever.
Their romantic journey is skillfully intertwined with those of beloved couples Anna and Étienne and Lola and Cricket, whose paths are destined to collide in a sweeping finale certain to please fans old and new.
After reading Lola and the Boy Next Door started the wait for Isla and the Happily Ever After. My expectations weren't that huge, I couldn't imagine that Perkins will be able to outshine her previous novels and I was right. Don't get me wrong, Isla wasn't bad, it was enjoyable and cute but unlike in the first two books I couldn't love the heroine and here start my problems with the novel.
Isla and Josh have known each other for years but they never really talked because both of them thought that the other wasn't interested in them. Well, this wasn't true. Isla had the biggest crush on Josh ever since she had first met with him and Isla wasn't totally indifferent to Josh either. It was so nice to see - through Josh's drawings - how differently they saw their interactions, both Isla and Josh thought they made themselves seem like an idiot in front of the other.
I loved the romance because it was slow-paced in a good way and cute. Isla and Josh were so shy around each other, it took a lot of time for them to figure out that the other had feelings for them. They had the same sense of humor, they could talk and they had amazing chemistry.
"Does this...does this mean you want to be my boyfriend?" My question sounds both immature and momentous. But Josh doesn't flinch.
"Yes," he says. "I want."
I really loved Josh, he is the cutest male character ever. He went out with Rashmi so I don't get how the hell could he be as clueless as he was sometimes. What the hell did he think when he gave Isla his notebooks without a warning? On the other hand, Isla should have known better than to freak out because of things that have already happened. I don't think that guys shouldn't cry at all, but Josh cried as many times as guys do in soap operas.
"You know, If you weren't tiny, cute and remarkably innocent looking I'd be running away right now. This feels like the set-up to some torture porn."
I thought that
Isla
was really cute and relatable at first sight but as
time
pages went by she started to annoy me. She always questioned herself and Josh in a way that I couldn't understand. She made stupid decisions that I couldn't forgive her for, and was angry when it all blew back into her face. She wasn't that bad but I liked Anna and Lola more than her. She had her moments when I really loved her.
"I can't imagine Josh falling for someone vanilla.
Not that Josh would ever fall for me.
But I wouldn't want to ruin any chance.
Even though I don't have a chance.
But just in case I do.
I really liked
Kurt
and felt actually bad for him when Isla was angry at him. He couldn't help himself but yeah I have to admit that I too was mad at him for a short period of time. He was an unique character, it's very rare when authors write about people with autism or about guy best friends who aren't gay.
I was a bit disappointed by they way the other characters were thrown into the story, that part felt a bit out of space for me and it was too short. I don't think something that happened then was necessary in the characters' life yet. In my opinion, they are far too young even if they are meant to be together.
"St. Clair waggles his eyebrows at Josh, but the moment he sees that I've caught him, his expression changes to a flirtatious grin. "Aw, mate," he says to Josh. "Admit it. You couldn't resist me."
Josh relaxes into a smile. "You're like a gorgeous little bonbon."
"Delicious in every way," St Clair says.
Anna rolls her eyes. "Wait until you try his creamy centre."
I think that's it. My biggest problem was that I felt like nothing happened which is not a great feeling while reading contemporary romance or anything else for that matter. I'm sad to give this few stars to the conclusion of one of my favorite series but I just can't help it, sorry.
Favorite character: Josh
Least favorite: Isla
The story idea: 3/5
The realization of the story: 3/5
The characters: 4/5
The cover: 3/5