Waiting on Wednesday is a weekly meme hosted at Breaking the Spine, it features upcoming releases that we're eagerly waiting for. This week I'm going to write about Creed by Trisha Leaver and Lindsay Currie.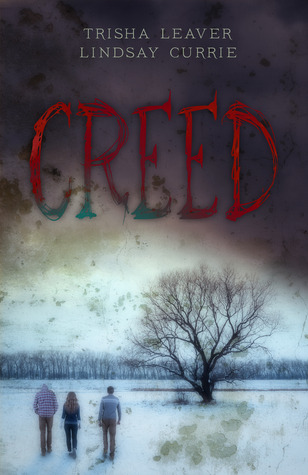 Three went in. Three came out. None even a shadow of who they once were.
When their car breaks down, Dee, her boyfriend Luke, and his brother Mike walk through a winter storm to take refuge in a nearby town called Purity Springs. When they arrive, the emergency sirens are blaring and the small farming town seems abandoned. With no other shelter, they spend the night in an empty house.
But they soon discover that not everything in Purity Springs is as it seems. When the town's inhabitants suddenly appear the next morning, Dee, Luke, and Mike find themselves at the mercy of the charismatic leader, Elijah Hawkins, who plans to make Dee his new wife. Elijah's son, Joseph, offers to help them escape . . . but the price of his help may be more than Dee and her friends can bear.
First of all I love YA mystery thrillers or in this case horrors and this seems like it has an interesting storyline. Secondly, look at that cover... seems creepy, isn't it? The first sentence of the synopsis is my favorite because it predicts that these three people will experience things that will change them forever. Sounds very intriguing, don't you agree?
What is your waiting on wednesday pick this week? Link in your WoW post in the comments! If you don't have a blog, just write down which book(s) are you waiting for the most at the moment. Don't forget that I'm curious about everyone's pick :)
Happy reading! :)