Young Tamsyn has always held a special place in her heart for her powerful fellow pack-member Nate. But as a dominant male leopard in the pack, the more experienced Nate doesn't want to trap Tamsyn into the fierce demands of the mating bond—a bond driven by the animal within—when she's hardly had the chance to grow into a woman. But Tamsyn knows what she wants for Christmas, and she's going to get it…
Note that this book can't be found as a standalone, however both An Enchanted Season and Wild Invitation contain this novella.
I was looking forward to Beat of Temptation because seriously who doesn't love Tamsyn and Nate? They are cute but passionate and it was clear from the very beginning that they loved each other more than anything. I'm happy to announce that they didn't disappoint me in Beat of Temptation either.
From the synopsis you might think that this novella is nothing but the story of how Tammy finally seduced Nate but no, their story was hardly that simple. Despite its shortness I didn't have the feeling that it was cut out from a longer story or it was too little. Nalini Singh brought the maximum out of this novella and again I'm so glad I gave this series a chance.
This short story has a hopeless atmosphere which made my chest tighten, Nate's rejection broke my heart every single time but on the other hand I felt his pain too and could understand and love both of these characters. That's the thing about Nalini Singh: she can make me feel an aching pain for the characters even though I've already known that they will end up together sooner rather than later.
19 year old Tammy was such a sweetheart, she was selfless but unfortunately she didn't have enough belief in herself, more than once in the novella she thought that she was less than someone else. Sometimes she seemed fragile but she always stood up for herself and was one the strongest characters so far.
Nate's biggest mistake was his stubbornness, Tammy could tell him that she wanted him as many times as she desired but still he never heard her. He had good intentions but his reasons for pushing Tamsyn away came from fears. Though I loved him there were times when I wanted to punch him in the face. Hard.
My only problem was that I couldn't follow the psy line thus I didn't care for it that much, I think it was unnecessary but still I fully enjoyed this story.
Finally let me mention my favorite part: we got a chance to meet with 15 year old Lucas and he was sooo wonderful, he stood up to Nate because he wanted to protect Tammy, aww I can't even tell you how adorable that was.
I'd recommend it to everyone who plans to start the Psy-Changeling Series or who's already started it but haven't read this novella, yet.
The story idea: 4/5
The realization of the story: 4/5
The characters: 5/5
The cover: 2/5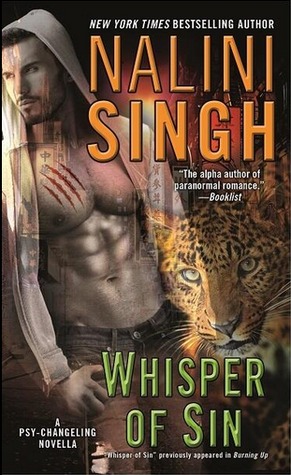 San Francisco
is under threat from a violent gang…a gang that has no idea who they're challenging. The DarkRiver pack of leopard changelings has already claimed the city as their territory, and they will fight with wild fury to protect its residents. Emmett, a lethally trained leopard soldier, isn't about to let outsiders muscle in on his home ground—especially when they target a human named Ria.
Emmett has one word for the smart stranger with her curvy body and tough spirit: mine.
Possessive, dominant, unyielding in his demands and desires, Emmett is unlike anyone Ria has ever before met. But while the sexy leopard changeling makes her body ignite, his kisses molten and his touch addicting, she's no pushover and she has a few demands of her own. This leopard has met his match…
I'm not sure if we got to know Ria before Mine to Possess but my first memory of her is when Talin met with her in the office. Ria helped Talin understand that anyone can be a member of the pack and was so genuinely nice that I liked her immediately. You can imagine my surprise (and happiness) when I realized that she and her DarkRiver leopard boyfriend, Emmett have already have a novella.
I didn't love these two characters as much as all the others but they were still very likable. It was great to read about Ria and Emmett but unfortunately the story felt a bit rushed, still it was pretty well written. I liked that there were many characters introduced all at once but I never got confused, I even started to like some of the other characters.
All considered Whisper of Sin wasn't as good as Beat of Temptation but it was still nice to learn more about Ria.
The story idea: 3/5
The realization of the story: 4/5
The characters: 3,5/5
The cover: 3/5