"I know, I know. She seems a little"—crossing his eyes, he swirled both fingers around his ears—"but it's really part of her charm, once you get to know her."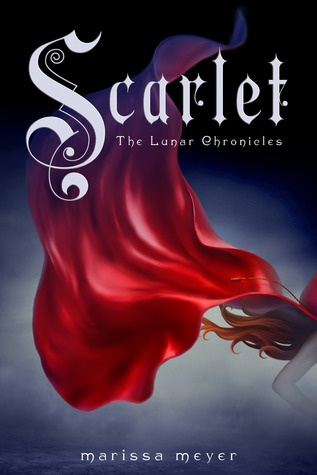 Cinder, the cyborg mechanic, returns in the second thrilling installment of the bestselling Lunar Chronicles. She's trying to break out of prison--even though if she succeeds, she'll be the Commonwealth's most wanted fugitive.
Halfway around the world, Scarlet Benoit's grandmother is missing. It turns out there are many things Scarlet doesn't know about her grandmother or the grave danger she has lived in her whole life. When Scarlet encounters Wolf, a street fighter who may have information as to her grandmother's whereabouts, she is loath to trust this stranger, but is inexplicably drawn to him, and he to her.
As Scarlet and Wolf unravel one mystery, they encounter another when they meet Cinder. Now, all of them must stay one step ahead of the vicious Lunar Queen Levana, who will do anything for the handsome Prince Kai to become her husband, her king, her prisoner.
After I finished reading
Cinder
I put The Lunar Chronicles aside for a bit and what a huge mistake that was! Scarlet was so much more than I could ever dream of
, it was an even better read than the first book.
Cinder was a book that introduced us to the main story and to the characters, it didn't lack of action but it had none compared to Scarlet. So prepare yourself because unlike myself, I couldn't find any mistakes in this book.
Before starting the book I had my doubts. Cinder was something completely different from my other reads and I wasn't sure that Scarlet will be able to give me the same feelings. You can imagine my surprise when I was not only proved wrong but have been captivated from the first page to the very last.
Before I started Scarlet I felt like a lot of things could go wrong, my biggest fear came from the issue of adding other main characters. I thought that they will either take too much time away from the characters we've already known or they won't be likable enough. Fortunately nothing what I feared came true. All the newly introduced characters were just as well-made as Cinder and Kai, and I happened to love them with all my heart.
Both of our previous protagonists were still very important and I was glad to see how much they developed since the beginning. Kai became a true emperor in all the ways it matters whilst Cinder was stronger and more determined than ever. I adored them ever more than in the first book if there's even such a thing.
There were still many-many funny scenes and thanks to Scarlet and Wolf we had our fair share of cute moments too. From the very first page of the novel, Marissa Meyer was able to sweep me away with her hilarious writing style, even when things were serious she was able to lighten the mood, however she knew where to stop and she never made it seem like everything was fun, we still got sad parts too which weren't mocked with humor.
Something that I liked was how we had the chance to get to know the Lunars a bit more than in Cinder, thus I was able to see them more than a mass of people who live in terrible fear of Levana. I'd highly recommend to read The Queen's Army before you start Scarlet, it not just introduces you to two characters from Scarlet but it gives you a better view into the Lunar world.
I was so glad to meet with both Wolf and Scarlet but the one who joined to my all time favorites was "Captain" Carswell Thorne who made the story a whole lot more enjoyable with his egoistic behavior and funny comments. He's just so hilarious he made me laugh out loud with nearly everything he said. I'm sure there's more to him than what shows on the outside, I guess we'll see.
He asked what she was in for and complimented the fine workmanship of her metal extremities, but she ignored him, making him briefly question if he'd been separated from the female population for so long that he could be losing his charm.
But that seemed unlikely
Scarlet was such a strong heroine, she stood up for what she believed in and she helped those who were in need, be her grandma or a complete stranger. I loved how determined she was to find her grandmother, she didn't even think about giving up, she would have rather died than let the only person who she truly loved die.
Amusement touched the corners of his lips. "Animals love me."
"Oh, I'm sure they do," Scarlet said, beaming with fake encouragement. She shut the door before muttering, "What farm animals don't love a wolf?"
Wolf was a more complex character, he lost his ability to fight for the better a long time ago and he couldn't believe in himself. He had this adorable side which stayed hidden even from himself and I just couldn't NOT love him no matter what he did.
Cinder
was one of the characters who wasn't unknown to us, she proved how brave she was in the first book and she didn't fail to amaze me in the second either. She wasn't fearless, no one is, but she chose a path that will end with her face to face with Levana, all of this for people who she didn't know at all, I think this speaks about her bravery crystal clear.
"Two counts of treason, if you must know. And resisting arrest, and unlawful use of bioelectricity. Oh, and illegal immigration, but honestly, I think that's a little excessive."
Kai
changed so much, he was kind of a naive character in the beginning but he had to learn how to rule an empire in the hard way and face betrayal on more than one f
ield of his life but he still managed to be a great emperor. He's such a strong hero who kind of deserves that every girl is crushing on him. Seriously, he's a wonderful character and I hope we'll be able to see more of him in the next novels.
"Regarding Her Majesty, Queen Levana, has she or any of the Lunar court commented on the escape of the convict?"
Kai's jaw tensed. "Oh, she's had a thing or two to say about it."
Iko happened to be in Scarlet in an unexpected form, still next to Thorne she was the character who we can thank for the funniest moments. I liked her in Cinder but for some reason I couldn't love her, in Scarlet this changed and now I can't even imagine the story without her.
Favorite character: Thorne, Cinder, Scarlet, Wolf, Kai, Iko
Least favorite: Ran (ugh I hate him)
The realization of the story: 5/5