We are the beginning. We always have been. This time, let it be more than a beginning.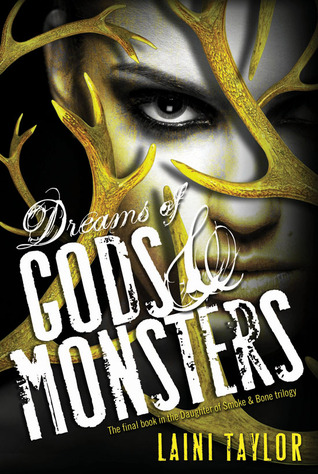 By way of a staggering deception, Karou has taken control of the chimaera rebellion and is intent on steering its course away from dead-end vengeance. The future rests on her, if there can even be a future for the chimaera in war-ravaged Eretz.
Common enemy, common cause.
When Jael's brutal seraph army trespasses into the human world, the unthinkable becomes essential, and Karou and Akiva must ally their enemy armies against the threat. It is a twisted version of their long-ago dream, and they begin to hope that it might forge a way forward for their people.
And, perhaps, for themselves. Toward a new way of living, and maybe even love.
But there are bigger threats than Jael in the offing. A vicious queen is hunting Akiva, and, in the skies of Eretz ... something is happening. Massive stains are spreading like bruises from horizon to horizon; the great winged stormhunters are gathering as if summoned, ceaselessly circling, and a deep sense of wrong pervades the world.
What power can bruise the sky?
From the streets of Rome to the caves of the Kirin and beyond, humans, chimaera and seraphim will fight, strive, love, and die in an epic theater that transcends good and evil, right and wrong, friend and enemy.
This review contains spoilers from the first two book.
Dreams of Gods & Monsters completely blew my mind, it was everything what the first and second book lacked off, it was exciting, funny and it had all the feels. This was the book in which Laini Taylor showed me that she didn't just find a great idea and used it for her books but is an amazingly talented writer.
At first I had no idea how the hell this story will work out, for goodness' sake we were introduced to a new character, Eliza on the first page but DoG&M turned out much-much better than I thought it could ever be.
I was anxious when the novel started, you know there were just so many things that still needed to happen. I had no idea who Eliza was and how she will connect with the others, the angles had to leave the Earth immediately, both the chimera and the seraphim had to find peace finally. Mik wanted to propose but he still needed to do two tasks to win Zuzana over (not like he didn't have her already but whatever). Karou had to see that Akiva really feels sorry and that he deserves her forgiveness, they had to be together, Thiago had to die or go to hell as well as Jael, Ziri needed to find a new love interest and last but not least I knew that The Stelians will have to have a big role in this book.
I'm not sure if I listed everything that I wanted to happen but it seems like too much in a 613 pages long book, don't you agree? And this was one of my problems, at the beginning I thought that the story was kind of slow meanwhile close to the end, things happened a bit too quickly and too close to each other for my taste.
First of all Eliza became very important and I just simply loved her character, at first I was angry at her for being as distant as she was but then I saw where she came from and what kind of things she had to endure and I understood her completely. She developed a lot throughout the story and even if she ended up getting a new beginning rather than a happily ever after I think this was what she needed in the first place.
People with secrets shouldn't make enemies.
People with destinies shouldn't make plans.
In this book came the moment for me when I started to value
Mik and Zuzana
, not just as Karou's loyal friends but as characters who broke the serious mood of the book from time to time with their funny conversations and improvised actions.
"You're right," Zuzana allowed. "You are a conniving, deceitful hussy. I stand in awe."
"You're sitting." (Karou)
Mik and Zuzana were totally perfect for each other and I'm sad for not realizing their awesomeness before.
"Now, let's not be hasty," said Mik, holding one of the saucer-broad wishes in his hand. "What exactly is a samurai, really? Do you think that's something we should know before we wish it?"
"Good point." Zuzana held a matching wish on her own palm. It dwarfed it, and weighed even more than it looked like it should. "It might turn us both into Japanese men." She squinted at him. "Would you still love me if I were a Japanese man?"
"Of course," said Mik, without missing a beat.
Akiva's and Karou's relationship developed a lot throughout this book and finally Karou understood his reasons for doing what he did. Unfortunately there wasn't a lot of time for the love story because the other topics of the book took the space from it which wasn't as bad as I make it sound (lol) so don't get too worked up.
It mattered. They mattered, and whatever it was that had made them not kill each other on Bullfinch beach all those years ago… mattered.
The greatest thing I love in this book was how the characters worked together, mainly I mean the two main characters. In many YA fiction I feel like the author makes the mistake of trying too hard write about strong, independent female leads and in the end they are the ones who do all the work, which just annoys me when there are tons of other characters as well.
In City of Heavenly Fire I had the feeling that besides Clary every single one of those characters were just... there but had nothing to do (besides of course finding their pairs... ugh) which is just so goddamn unrealistic. I had the same feeling in Allegiant, Tris wanted to do everything alone, and the other characters like Tobias and Christina were made to look like kind of useless, on some occasions even pathetic.
I loved that Laini Taylor didn't made Akiva look like a weak fool who can't possibly do anything, but it was still obvious that Karou was a strong heroin, she just happened to have a strong hero as her partner. :)
Akiva: I loved him in this one more than in the previous novels, I like that he was the one who had the most hope, at least since he met Karou, and who wouldn't let anything stand in his place. He fought for a better life even if he actually had no idea what a life without war would look like, he even convinced his sister (Liraz) of everything he believed in. All considered I'm happy because I could read about his absolutely well-written character.
"And speaking of fair, you might have waited a few minutes before barging in earlier. I'm sure we were seconds from kissing."
Liraz snorted, caught off guard, and the tension between them ebbed away. "I'm sorry if my almost dying interrupted your almost kissing."
"I forgive you," said Akiva.
Karou: She kind of lost my respect and belief in book #2 but fortunately she proved to me that she's still that incredible girl who we got to know in DoS&B. She was brave and she dared to hope for a better future not for just herself and Akiva but for all the chimera and seraphim. I liked that she changed a lot since the beginning, she was able to see the bigger picture unlike in the second book and her character developed a lot since the beginning.
And for the first time in a long, long time, Karou felt the truth of it. Her heart was not wrong.
Ziri
: Aww he was so adorable in this book and I felt sorry for him, now he didn't just have to handle that Karou will never look at him in a romantic way but he had to live in a body that wasn't his and what scared even those who knew that who was in Thiago's body. I think he and his love interest made a very strange but cute couple but please Laini Taylor not insta-love again... (sigh)
"You're doing so well." At being Thiago, she meant. "It's a little eerie."
"Convincing. A few times I almost forgot—"
He didn't let her finish. "Don't forget. Not ever. Not for a second." He drew in breath. "Please."
So much behind that word. Please don't forget I'm not a monster. Please don't forget what I gave up. Please don't forget me.
Liraz: I can't tell you how much I loved her in DoG&M, she is the character who went through the most changes since the beginning. Close to the end of the book she totally surprised me with the way she acted, she became one of my favorite characters that's for sure.
Finding Akiva's door still closed, Liraz gave a chuff of derision and didn't knock but only crashed it open and glared at the sight that greeted them. Akiva and Karou, eyes bleary with desire, facing each other on a stone slab and touching, hands to hearts.
"Well," Liraz said, her voice as dry as the rest of her was not. "At least you still have your clothes on."
Favorite character: Akiva,
Liraz,
Karou,
Ziri, Issa
Least favorite: -
The story idea: 5/5
The realization of the story: 5/5
The characters: 5/5
The cover: 5/5
Question time:
Do you agree with what I said about YA fiction's heroines and heroes? Why?