Once upon a time, an angel and a devil fell in love and dared to imagine a world free of bloodshed and war.This is not that world.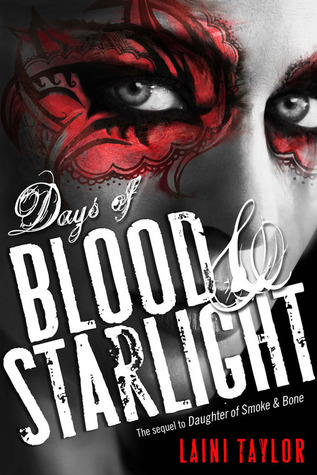 Art student and monster's apprentice Karou finally has the answers she has always sought. She knows who she is—and what she is. But with this knowledge comes another truth she would give anything to undo: She loved the enemy and he betrayed her, and a world suffered for it.
In this stunning sequel to the highly acclaimed Daughter of Smoke & Bone, Karou must decide how far she'll go to avenge her people. Filled with heartbreak and beauty, secrets and impossible choices, Days of Blood & Starlight finds Karou and Akiva on opposing sides as an age-old war stirs back to life.
While Karou and her allies build a monstrous army in a land of dust and starlight, Akiva wages a different sort of battle: a battle for redemption. For hope.
But can any hope be salvaged from the ashes of their broken dream?
After I finished Daughter of Smoke & Bone I wanted to start Days of Blood & Starlight immediately but I knew that this book will be bloodier than the first was and won't be peaceful at all, so I had to read a few other books and then I was as ready as one could be. Unfortunately, unlike many other people I didn't like this book that much, it was an okay read but nothing more.
"A dream dirty and bruised is better than no dream at all."
Both Karou's and Akiva's character developed a lot throughout the first novel and I hoped this will continue in the second as well. Unfortunately, I felt like all the things that had changed in them disappeared and until the second half of the book I lost all my love for them.
I was looking forward to some real action, instead I got introduced to the resurrection while I still don't get how it actually works. (Where the hell does the body come from? Does it just appear from thin air?) I had to watch Karou's naivety and Akiva's stupidity while the story-line didn't interest me for one minute.
Thank god this changed after approx half of the book, that's when slowly everyone's eyes opened and finally things started to happen. I don't say that nothing happened in the first half of the book but I couldn't concentrate on anything besides how much the characters annoyed me.
Now, what I liked. The parts which showed us how the angels live and how true is that the misbegotten aren't anything but weapons showed me that they aren't the bad guys either, not really. There were a few parts where we could have a better view into the emperor's life and saw what a horrible person he really is but Thiago isn't better, is he? My favorite part was getting to know Hazael and Liraz better, at first they - mainly Liraz - seemed rough but in this book I could connect with them without any problem.
Most of the story took place in the chimera camp where Karou did what she could to save the chimera nation. I loved that she didn't, couldn't give up and even if she had to live without any friends she stayed strong. I liked the same things in Akiva, who even after thinking the worst managed to be a better person than he has become after Madrigal's death and saved many lives.
Karou: It's so hard for me to say bad things about her because of all the horrible things that she had to endure but come on girl, can you get any stupider? I loved that she joined to the chimera and helped in the best way she could, meanwhile I think she wasn't careful enough and she believed too many things without questioning Thiago. The White Wolf already killed her once so why the hell didn't she learn from that incident? She went on hating Akiva while she trusted in Thiago... don't misunderstand me I'm not mad at Karou for hating, or trying to hate Akiva after how he betrayed everything they believed in but Thiago, really? I felt like she was a naive girl and not someone who was living her second life and had learnt from her mistakes.
She smiled to herself. It was funny, she thought, but her smile turned wistful because she had nobody to tell.
Akiva: I felt sorry for him because it was obvious that he lost himself after Madrigal's death and the only way he could survive was by suppressing his emotions and concentrating of the war. After seeing how mortified Karou was when she learnt what he did, he became a better person and made his brother and sister do the same. He helped many chimera to survive when he didn't have to do anything but lay back and watch the angels kill as many innocent as they could.
"You have only to begin, Lir. Mercy breeds mercy as slaughter breeds slaughter. We can't expect the world to be better than we make it."
I love Hazael, he's such an amazing character who would deserve a happy ending, same for Liraz who seem cold but she's more than what she seems.
"You know, I've always wanted to be a bath attendant. You should take me instead. I'm nicer than my sister."

Jael returned the lazy smile.




"You're not my type."




"Well, you're not anybody's type," said Hazael. "No, wait. I take it back. My sword says she'd like to know you better."
"As long as you're alive, there's always a chance things will get better."

"Or worse," said Liraz.

"Yes," he conceded. "Usually worse."

Hazael cut in. "My sister, Sunshine, and my brother, Light. You two should rally the ranks. You'll have us all killing ourselves by morning."


I started to like
Mik
and I can't even remember why did I hate him so much in the first novel, I like
Zuzana
too, she's such an amazing friend of Karou. These two went to a completely unknown place just to see their friend and make her happier than she seemed like from her letter.
I hated nearly all the chimera but
Ziri
who is such an inhumanly nice person, the only reason I didn't love him was because of his feelings for Karou (Madrigal), I felt like he was ruining my ship and that is something I can't tolerate.
I liked Issa in Daughter of Smoke & Bone and I came to love her in Days of Blood & Starlight, she was the mother figure in Karou's life and she was such a good person.
"It was brave," countered Issa. "It was rare. It was love, and it was beautiful."
Favorite character: Akiva
The realization of the story: 3/5