"Isn't that what stories do, make real things fake, and fake things real?"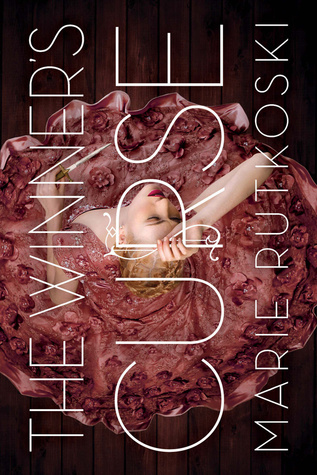 Winning what you want may cost you everything you love.


As a general's daughter in a vast empire that revels in war and enslaves those it conquers, seventeen-year-old Kestrel has two choices: she can join the military or get married. But Kestrel has other intentions.

One day, she is startled to find a kindred spirit in a young slave up for auction. Arin's eyes seem to defy everything and everyone. Following her instinct, Kestrel buys him—with unexpected consequences. It's not long before she has to hide her growing love for Arin.

But he, too, has a secret, and Kestrel quickly learns that the price she paid for a fellow human is much higher than she ever could have imagined.
Click here for my mini-review of Bridge of Snow (The Winner's Trilogy #0.5).
I was a bit hesitant to pick up The Winner's Curse, mainly because the blurb didn't catch my attention at first, but all the bad reviews of the book weren't helping either. This is the kind of book which you either love or hate; I don't think there are lots of people in between. Fortunately, I belong to the first group and I'm so thankful to one of my Goodreads friends who wrote to me to read this immediately because it was amazing, if you're reading this, you must know that I'm talking about you. :)
Even if I loved The Winner's Curse to the moon and back, I can see why some people might hate it. It starts really slowly, at first we're introduced to the characters and then we figure everything out very quickly - we never even got the chance to think about Arin's 'huge' secret because it was thrown into our face pretty soon. All in all there wasn't anything mysterious or shocking about the story, everything was clean and clear.
This is not an action filled book and if you're looking for that type of book
you better
cross this one out of your to-read list. It was quite
slow-paced
, the plot never got super-quick and there weren't any real fighting scenes, the ones that happened were kind of action-less, if I can say so.
The world-building was beautifully written
, everything started on the market and slowly the author stretched out the picture to other places. I think she had a hard task because she wrote an entirely new world with a very different history from our own, I thought I was going to have a hard time accepting how differently they treated women but after a very little time I was so into the story that I completely forgot my doubts.
The worst thing about these wars was that both parties could have made peace a long time ago because they weren't that different, actually both of them fought for their people
. I loved that the author didn't want to push down on our throats how good wars are, she could have done it easily, just taking out the part of the book where Arin realised that maybe they are not that different from each other after
all,
instead she showed us that most people work the same
way
even if they are enemies, and there are horrible people on either side, as well as good people.
As his people positioned themselves in and around the pass, Arin though that he might have misunderstood the Valorian addiction to war. He had assumed it was spurred by greed. By a savage sense of superiority. It had never occurred to him that Valorians also went to war because of love.
The romance was pretty sweet.
I couldn't help myself, I had to ship them even if I knew the truth about Arin. To my liking it was not an insta-love, at first they only sympathized with each other, and as the time went by they started to develop feelings which became deeper and deeper so by the end their love was unquestionable.
"Arin smiled. It was a true smile, which let her know that all the others he had given her were not."
I liked Kestrel's character, I can't get her constant desire of wanting to please everyone, but I can see why she was like that. She was the perfect strategist who wasn't afraid of making choices. She was also capable of sacrifice others' lives. She was a good friend and she deeply cared for people, even for the ones under her. It wasn't her fault that she was born into luxury but even this way she loved her nanny who was a slave. She went out of her way to free her even when she was a child, and convinced her father to free her, even though she was afraid the woman will leave her.
"She reminded herself bitterly that this was what curiosity had bought her: fifty keystones for a singer who refused to sing, a friend who wasn't her friend, someone who was hers and yet would never be hers."
The author did a very good job of making me love Arin, despite the fact that he did some questionable things. Everything he did was relatable; it was obvious from the very beginning that he had good reasons to do what he did. I won't lie to you, at some parts I was angry as hell at him but he always washed himself clean in my eyes. I loved how he slowly saw he had feelings towards Kestrel and even when he tried to push her away he couldn't get her out of his head. Even if Arin knows that he isn't a slave, somewhere deep down he still thinks he's a very little worth, much less than Kestrel does.
"He knew the law of such things: people in brightly lit places cannot see into the dark."
The secondary characters were a bit 2 dimensional but the amazingness of the protagonists more than compensated for their plainness. Sadly I couldn't get the friendship of Kestrel and Jess, throughout the book I had the feeling that Kestrel has to love her because of a reason but I never found one. She was really uppity and most of the time annoying. I wouldn't have
call
ed
her a good friend either until one point in the novel where she stood up for Kestrel even if she knew that people will hate her too.
Roland
was another mystery. His feelings for Kestrel seemed childish and forced and I never once felt like they were real, actually he didn't feel real either. I wouldn't say I hated him but was neutral to me. I'm disappointed because I love brothers and sisters in novels when they have a great relationship, meanwhile Jess and Roland hang out with the same people and seemingly were pretty close but I never felt any deep connection between them.
You know what I hate? Love triangles, they made me gave up on lots and lots of TV and book series because I can't stand them, but there's one thing I hate more than them. Forced love triangles, where one boy is just there but it's clear he'll never kick the ball next to the other. These are horrible, because it's one thing to lead on two guys who you love but not even love one and still keep him around? Disgusting. Fortunately Kestrel told Roland she'll never want anything like that from him and I hope to hell this will close this triangle off.
Favorite character: Kestrel, Arin
Least favorite: Cheat, Jess
I'd recommend this
to fans of These Broken Stars by Amy Kaufman and Meagan Spooner because they were quite similar. There was a rich girl who fell in love with a boy who shouldn't be with her. The newly invented world in both of them, and the slow-pacing of the story was again kind of the same.
The realization of the story: 4/5
There's one thing I'm afraid of, which is another love triangle. It's a bit suspicious that we couldn't meet with the son of the governor before the end… what if he isn't an ass and will be Kestrel's new love interest? I don't want to hate this trilogy, please don't make me hate this trilogy…