Here's a hello and a smile to all of you little muffins. *beams* Why am I so ecsatitc? IDK... oh wait, MAYBE BECAUSE THERE'S FINALLY A CHANCE FOR ME TO SCREAM ABOUT SOME MASSIVELY AND UNFAIRLY UNDERRATED BOOKS I'D DIE FOR. *takes calming breath* 
Wait, what are you saying? Oh yeah, that... sure, technically speaking I could do that in every single post, but now I have actual motivation thanks to this week's Top Ten Tuesday (weekly meme hosted by The Broke and the Bookish) topic. So huge thanks to whoever came up with this topic - you rock.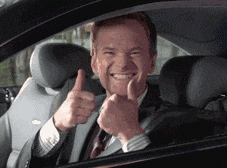 We could argue for days about which books are underrated, as that's a pretty subjective word, but I'd rather just shove these beauties into your face now and argue about their underratedness (totally a word) later. 
By the way, I've read all of these titles in 2016 & you should too!! Well, not in 2016, obviously, because time travel doesn't exist - bummer, I know - but in 2017 for sure. For the sake of easing your task of adding these to your TBR list, all covers lead to Goodreads. Thank me later when you're furiously adding these awesome-sauce titles to your wishlist. *flips hair*